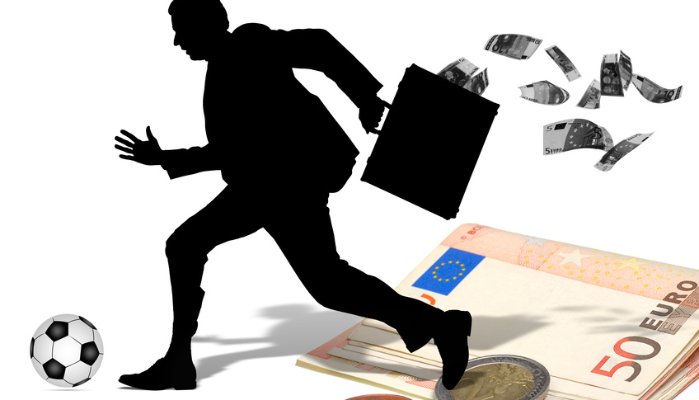 As many will know, Sepp Blatter is the erstwhile head of FIFA. On his watch, 9 senior officials had arrest warrants issued by the FBI after a joint US/Swiss probe into corruption and racketeering in FIFA, the world's governing body of football, or soccer, or roundball or footie. No more nicknames, we know what we mean.
Sepp Blatter appears to have done an absolutely phenomenal job of ripping the sport apart in recent months. However, over the course of decades the apparent shady practices of his cohorts appear to have destroyed the company, the product and the brand. Their behavior became reflected by acceptable standards on the field of play.
FIFA is a non-profit organization but has $1.5 billion (yes, with a "B") in reserves as a war chest. War chest for what, they don't pay for anything? Additionally, there are strong suspicions of embezzlement, bribes, racketeering and all kinds of nefarious activity throughout the organization.
Not to put the FBI and their sleuthing powers down but when a country like Qatar gets awarded the 2022 World Cup maybe something is not quite above board (appalling human rights record, abuse of migrant workers, particularly with unsafe working conditions, not to mention the fact that it's hotter than the surface of the sun there, not exactly conducive to running around for 90 minutes). Or maybe Russia for the 2018 World Cup (some guy called Putin has also had a few criticisms levelled against him for his human rights record).
The FBI released this telephone conversation transcript from 2012 between Sepp Blatter and ex-head of US Soccer, Jack Warner, who is currently hiding out in Trinidad with an arrest warrant issued against him. By the way, how do you hide out in Trinidad, "look, there he is, behind that tree".
Sepp: Jack, it's Sepp. We committed $750,000 to earthquake relief in Haiti. I think Haiti's near you isn't it?
Jack: Good morning your Majesty. That's very nice of you but can we afford 750 grand?
Sepp: It's ok, it's not all ours, the Korean FA sent money too, I think they thought Haiti was near them. I did too, I called our guy in Asia but he said Haiti is closer to you.
Jack: You know Haiti is a poor country anyway yes? I think it's way too much. They'd be happy with $750 I think.
Sepp: You may be right and seeing as we talked about giving them money that makes us nice people. Listen, why don't I make the cheque out to you and you can deal with it, I'm far too busy being nice in other places.
Jack: Sure thing, I think I'll pass on the 750 bucks too, it's too much paperwork for that amount of money and if we can get the Koreans into the finals they'd consider it a good investment.
Sepp: Thanks Jack, see you soon.
Now you'd think that that corruption scandal just days before the vote on his re-election would crush him and any hopes he had of being re-elected. Not so, he was re-elected. Four days later he smelled the coffee and resigned but remains in office until they find a replacement. What!! They can't find a replacement? How about the Haitian Ambassador to Switzerland? They can do job sharing, let's see how Sepp enjoys facing up to his new Haitian colleagues. Or any one of pretty much anybody else on the planet.
Of course, he proved over and over again that he was bullet proof. In 2004 one of his funniest, stupidest comments involved trying to suggest that the women's game would be better promoted by the players wearing "more feminine clothes" and "They could, for example, have tighter shorts. Female players are pretty, if you excuse me for saying so, and they already have some different rules to men – such as playing with a lighter ball." That kind of sexual reference will get any head of any company fired or resigned but not Sepp, barely a hiccup. Given what has recently transpired, are we surprised? By the way, men and women have the same size balls as it were.
Let's spare a thought for the communications strategy of such an arrogant, corrupt management team.The Communications Director has just resigned after telling a Swiss interviewer this joke "The FIFA president, Sepp Blatter, the director of communications and the general secretary are all sitting in a car—who is driving? The police,". Add to this a $26.1m movie focussed on the aggrandisement of FIFA's governing body.   Opening weekend's take was $607 in the US, yes, $607, no typo. One movie theatre in Phoenix reported $9, which can only have meant some guy went to watch it on his own as his wife sat at home and watched the Women's World Cup on TV maybe? Hubris and arrogance in everything they do.
Now, how does all this translate to the killing of a company, a product and a brand?
I need to come clean, I am an avid and rabid rugby fan, my favorite joke in the world is "Why do so many people play soccer?" "So they don't have to watch it".
That said, I've watched some of the Women's World Cup that is currently being played in Canada and it's actually quite good, it might be very good to somebody who wasn't so massively prejudiced against soccer.
From what I can see, being the soccer afficionado that I am, it moves along continuously, players don't whine at the referee, they don't roll around on the floor like they've been shot and then magically get cured when everybody ignores them (a behaviour that is surprisingly similar to my children), they don't bite their opponents (and then get a 3 game suspension), they don't spit on their opponents, they don't wear tight shorts and their balls are as big as the men's. Looking at them play, I'd say their balls are bigger but now I'm getting a little risque.
Sepp Blatter denigrating women's soccer in 2004 is probably the best thing that could have happened to women's soccer, he clearly defined them as a separate and unwanted brand, giving them a chance to thrive.
Meanwhile, in the men's game, the hubris and corruption off the field spread on to the field as the players clearly have a blatant disrespect for the game and their opponents. It seems that if the leadership will steal money from relief efforts a little bit of palm greasing for the awarding of World Cups, sponsorship deals, other elections isn't such a big deal.
And so the players can get away with their on field antics. There goes the product and the brand. Or maybe corporate culture was redefined by Sepp; corruption and arrogance with a sizeable dash of hubris are now part of the game and the corporate culture.
I'm thinking about now Sepp is feeling like he's wearing tight skimpy shorts as the authorities take a closer look at paper and money trails. And maybe the women should be grateful for Sepp's sexist, anachronistic remarks as I'm sure they will thrive.